What Color is Brake Fluid?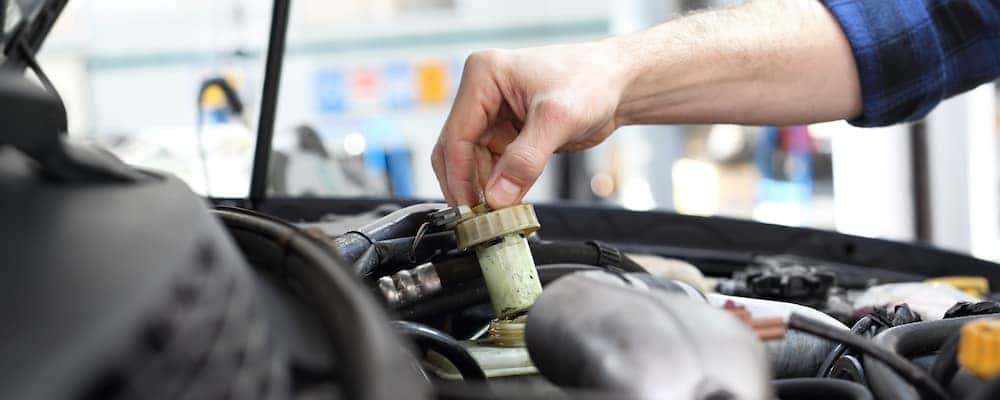 When you check your master cylinder reservoir (which you should at least twice a year), it's important to pay attention to color. Fresh brake fluid is clear with a slight yellow tinge. This applies to all brake fluid types, such as DOT 3, 4, or 5. If your Mazda car's brake fluid is still mostly clear, it's usable. Read on to learn more about how to tell when brake fluid is old, and when to schedule a brake fluid flush near Nampa!
What Does Brake Fluid Look Like When It's Old?
Over time, the braking system's fluid color can start to resemble engine oil. Why does the fluid turn to a dark or light brown — or even black? Here are a few common reasons:
Aging: It's been a while since the fluid was changed and contaminants have built up.
Moisture: The fluid has absorbed moisture from the rubber brake lines.
Aging Rubber Brake Lines: Your car's brake lines may be deteriorating and need replacement.
Regular Heating: The braking system's fluid is heated as it makes contact with the calipers, causing a chemical reaction that changes the fluid color.
Signs it's Time to Check Your Car's Brake Fluid
If it's been two or more years since the fluid has been changed, you may start to notice some issues. Here are a few indicators it's time for a fluid flush:
You have to press the brake pedal to the floor.
Your car won't come to a stop unless you press the brake pedal two or more times.
The dashboard brake light is on.
There's a brake fluid puddle under your car.
The brake fluid reservoir indicates low fluid.
Get More Car Care Tips from Dennis Dillon Mazda in Boise!
Whether it's time for a fluid flush or you've noticed a fluid leak, Dennis Dillon Mazda's service team can help! We're conveniently located near Caldwell and Meridian. Contact us with any questions about brake fluid leaks, exchanges, and other services. Also, be sure to browse our service specials for savings on brake service and genuine Mazda parts!
More from Dennis Dillon Mazda
The 2023 Mazda CX-5 offers more than a sleek and stylish exterior. It is just as applause-worthy on the inside due to the many technological and comfort features it includes. The CX-5 interior also provides plenty of room for stretching out and hauling various belongings throughout Nampa and the surrounding areas. Learn more about the…

Perhaps your family is growing and you need more space for little passengers. Maybe you are an adventurer extraordinaire who loves exploring the regions around Nampa and the surrounding areas. Or perhaps you crave a more spacious SUV interior for hauling groceries and other errand-related items. No matter what your needs are, the 2023 Mazda…

The Mazda SUV models include the 2019 Mazda CX-3, Mazda CX-5, and Mazda CX-9. While they differ in price, each SUV offers SKYACTIV® TECHNOLOGY, safe and attentive driving, and spacious cabins with cutting-edge features. They're also less costly than some competitors. So, which is right for your Nampa commute? Explore the Mazda CX-3, Mazda CX-5,…