When to Replace a Serpentine Belt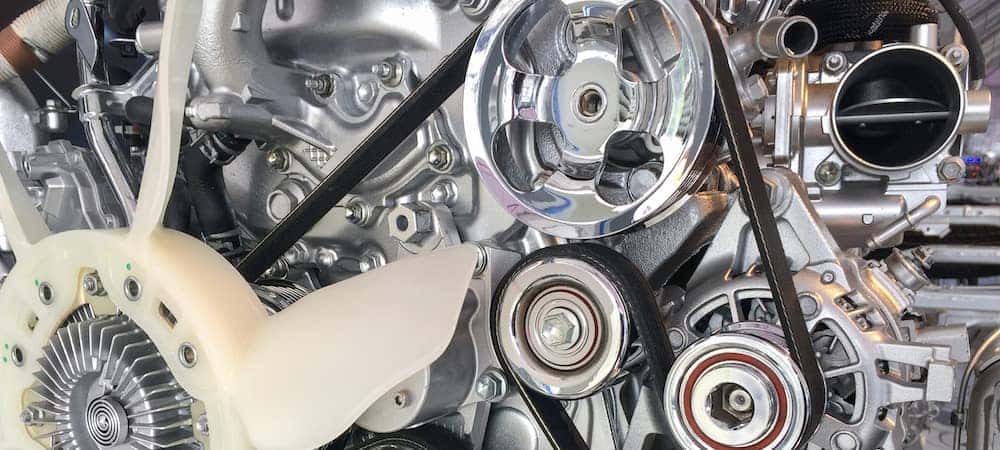 How long does a serpentine belt last? Serpentine belts (or drive belts/accessory drive belts) are made of sturdy rubber, so it's not uncommon for them to last for 50,000 to 100,000 miles. However, exposure to heat and friction breaks them down over time. You'll need to schedule an appointment at our service center near Nampa to replace a worn belt. Read on to learn more about when to replace a serpentine belt!
What Does a Serpentine Belt Do?
The drive belt is a long, winding belt that sends power to the alternator, power steering pump, water pump, and air conditioning system. The belt needs to be in good condition to effectively power other systems inside your Mazda.
Signs It's Time for Replacement
Over time, serpentine belts begin to peel, crack, slip, or fray. If you notice any of the following red flags, it's probably time for a replacement:
Squealing Noises: Strange noises indicate belt stretching or low tension, or the belt and pulley aren't correctly connected.
Wear and Tear: Signs of wear are tear are easily recognizable. You'll see cracks, uneven wear, etc. on the belt.
Systems Failure: If the power steering and/or air conditioning fail, your serpentine belt needs to be replaced immediately.
Complete Breakdown: Total belt failure results in a breakdown, which can be extremely dangerous for you and others on Caldwell roads. Catching problems early on can prevent this.
What is a Belt Tensioner?
Modern drive belts feature self-controlled belt tensioners. Using an internal spring and pulley system, they hold a specific amount of tension on the serpentine belt to prevent damage and breakage. Belt tensioners also help to keep the belt in place; loose belts can cause the power steering, cooling system, and engine to stop running. Replacing the belt tensioner when the drive belt is replaced will help prevent mechanical failure.
Schedule Belt Service Near Meridian!
Periodically inspecting your Mazda's serpentine belt can prevent steep repair costs and the failure of essential systems, such as the power steering system. Contact us at Dennis Dillon Mazda to learn more about when to replace a serpentine belt and associated costs. Don't forget to check out our parts specials for savings on components like drive belts, brake pads, and more.
More from Dennis Dillon Mazda
View New Mazda CX-30 InventoryContact Us Is the 2023 MAZDA CX-30 Fuel Efficient? Are you searching for a family-friendly, gas-optimizing, brand-new Mazda SUV near Nampa? If so, you'll want to check out our new Mazda CX-30s in stock at Dennis Dillon Mazda. Not sure how many miles per gallon the Mazda CX-30 gets? You'll find that the…

2023 MAZDA CX-50 Interior Features When you step inside the 2023 Mazda CX-50, it's challenging not to say "Wow!," "Awesome!," or something similar. Why? It's interior is as spacious as it is tech-savvy and versatile. If you want to see it for yourself at any time, contact us and we'll set up a test drive!…

The Mazda CX-30 sits between the Mazda CX-3 and the Mazda CX-5, and drivers who have alternated between those models are likely to find it to be a perfect fit. In spite of this, you'll see from the 2023 Mazda CX-30 specs that this small SUV is anything but a cut-rate model. The Mazda…