When to Replace Brake Pads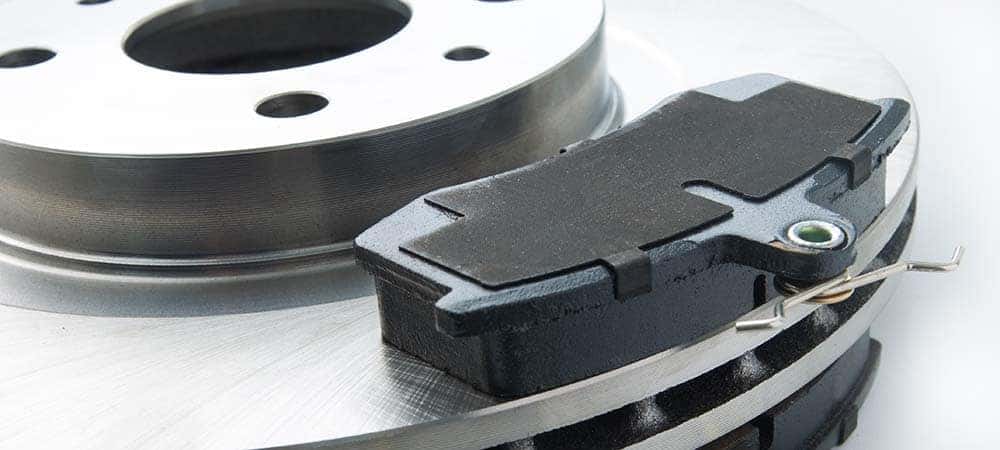 Whether you're driving a Mazda CX-5, Mazda3, or any other Mazda in the diverse lineup, you can tell if your car needs new brake pads if:
You notice that there is wear-and-tear on the pads by looking between your wheel spokes. Your pad should be against a rotor. If you see less than a quarter-inch of pad between your wheel spokes, then you should take the drive from Caldwell to our service center in Boise.
You notice high-pitched screeching when you brake your Mazda CX-9 or Mazda6. Typically, this screeching indicates that your brake pads will need replacing soon.
If your Mazda feels less responsive on Meridian roads, or if the brake pedal seems to sink to the floor, you may have a brake fluid leak. Another indication of a brake fluid leak is the pooling of an oil-like substance beneath the vehicle when parked.
Some Mazdas will also have a Brake Warning Light. This will show when it's time for a brake pad replacement. In general, it's a good idea to keep your owner's manual in your glove box, and read it when you see a light you don't know.
How Often Should I Get My Brake Pads Replaced?
It's helpful to consult your Mazda's owner's manual for routine maintenance recommendations. On most cars, however, you can expect to change your brake pads between every 25,000 and 70,000 miles of driving.
Sure, this interval may seem large, but your driving habits and your driving conditions are both relevant considerations. Driving through cities like Boise and Caldwell involve frequent braking, so it's wise to get your brake pads inspected or replaced more frequently. In addition, mountainous Idaho driving will cause additional wear and tear on your brake pads – all the more reason to get your Mazda3's or Mazda CX-3's brake pads more frequently inspected or replaced.
How Much Does a Brake Pad Replacement Cost?
In general, a brake pad replacement by Mazda-certified technicians will cost between $150 and $200 in Boise, ID. While you can shop around the Caldwell area, it's a wise idea to take your Mazda into a shop whose technicians are specifically trained on your vehicle. Luckily, at Dennis Dillon Mazda, our technicians are trained on all things Mazda – plus, we use genuine Mazda parts, optimally tailored for your Mazda3 or Mazda6!
Save on Mazda Service by Taking Advantage of Our Specials and Coupons!
While you can certainly change your brake pads yourself, you can save yourself the strife and sweat by taking your Mazda into the Service Department in Boise. If you're looking to save on your brake services, you can take advantage of our service specials. Contact us today for questions on all things brakes, or simply schedule a service appointment to get started.